Kent FA Referee, Chris Bright, Gives CPR and Saves a Life
The story highlights the importance of cardiac arrest training in our grassroots football community.
Last weekend, Kent Referee Chris Bright was officiating a veteran's memorial game at Greatness Park, Sevenoaks Town FC, for a player retiring from football. However, at the 80-minute mark, one of the players collapsed on the ground. The player was clutching his chest, his eyes were fixed, and his breathing was abnormal. The player was having a heart attack and required urgent medical assistance.
Chris's previous cardiac arrest training came into play as he placed the player in the W position to conduct a further survey. At this point, the player went into agonal breathing and lost consciousness. He instructed player, Bret Northover, to get the club defibrillator and dial 999 whilst he started CPR. Waiting for the defibrillator to arrive, Chris completed several rounds of CPR. Player, Dan Thomas, took over the breathing on Chris's instructions, as Chris talked Bret through how to use the defibrillator whilst he continued CPR.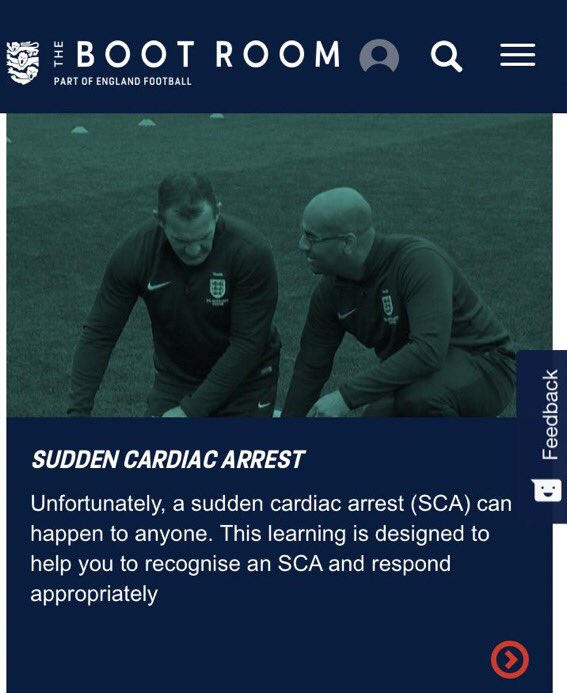 Allowing the defib to assess the player, Chris stopped CPR, and a shock was advised. Chris then continued CPR before requesting help from player, Sean Jarvie, to take over CPR, ensuring he kept a steady rhythm and depth. When the first ambulance crew arrived, Chris and the players' teammates had managed to get the player conscious and breathing.
It has since been learnt that without the actions taken by Chris and other players present, the player would have died due to a blocked artery that had stopped blood flow to the heart. He now has a heart stent and is due to make a full recovery due to the actions taken. Everyone at Kent FA would like to wish the player a speedy recovery.
Recent publicised events have highlighted that a cardiac arrest can happen to anyone, anywhere, at any time – at home, work, or out in public – and even to elite sportspeople. There are over 30,000 out-of-hospital cardiac arrests annually in the UK; tragically, less than one in ten people survive. But the effective use of CPR and a defibrillator can sometimes double a person's chances of survival.
We at Kent FA will continue encouraging stakeholders to sign up for the FA's Sudden Cardiac Arrest online course. It is free and could help save a life!